Serious questions are being asked of the NFL and the Miami Dolphins after star quarterback Tua Tagovailoa was rushed to hospital following a frightening incident in Friday's clash with the Cincinnati Bengals.
Tagovailoa was chased down and flung hard into the turf by Josh Tupou with six minutes left in the first half at Paul Brown Stadium in Cincinnati.
He remained down for more than seven minutes before being stabilised and removed from the field via stretcher.
READ MORE: Panthers star sledges Eels ahead of decider
READ MORE: 'Devastating' illness ruined star's Olympic dream
READ MORE: Magpies star makes decisive contract call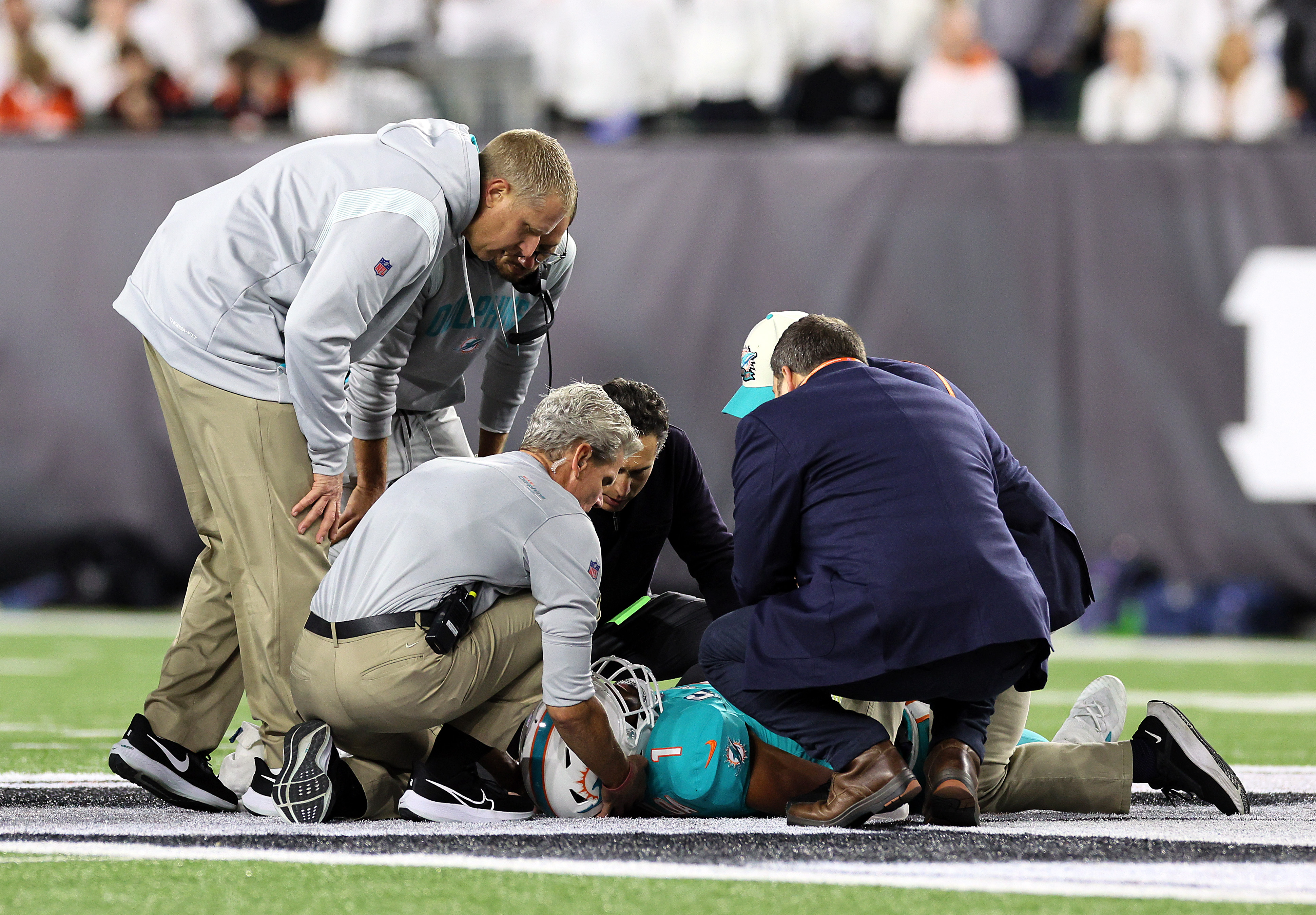 Dolphins players gathered around as he was rolled off the field and the crowd chanted "Tua! Tua!"
The Dolphins said that Tagovailoa had suffered head and neck injuries but was conscious and had movement in all his extremities as he was taken to hospital.
The team said after their 27-15 loss to the Bengals that Tagovailoa was expected to be released from the hospital and fly home with the team.
The 24-year-old was suffering from a sore back and was listed as questionable for most of the week ahead of the game.
https://twitter.com/MiamiDolphins/status/1575663929287905282?s=20&t=D5nia_plo3xUl1Rgcaf1lQ
Tagovailoa left the previous 21-19 victory over the Buffalo Bills on Monday, returning despite appearing to be disoriented by what the team originally said was a head injury after taking a hard hit from linebacker Matt Milano late in the first half.
He missed just three snaps and returned after halftime, a decision that prompted a joint review by the NFL and National Football League Players Association of what went into the decision to allow him to return to the game.
The team and Tagovailoa said after the game the quarterback had a back injury that caused his awkward stumble and fall after he was slammed into the turf.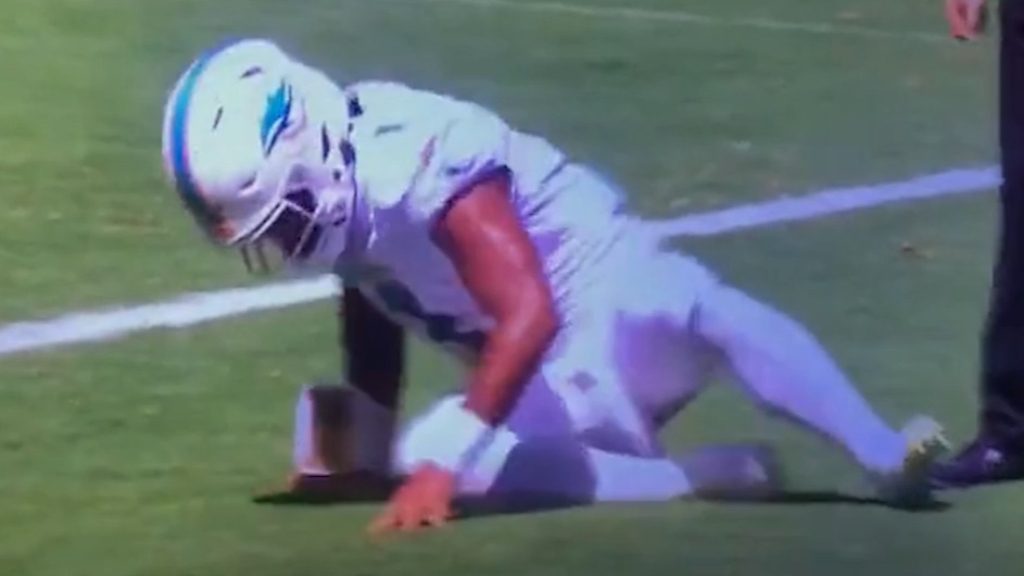 The team then said on Tuesday that Tagovailoa was not in the concussion protocol.
Tagovailoa said he "hyperextended" his back after getting his legs caught under someone on a quarterback sneak.
After Tagovailoa's injury, the NFLPA tweeted: "Player health and safety is at the core of the union's mission. Our concern tonight is for Tua and we hope for a full and speedy recovery. Our investigation into the potential protocol violation is ongoing."
Some criticised the decision to play Tagovailoa so soon after his injuries on Monday.
Hall of Famer Shannon Sharpe tweeted: "That's a serious injury. Tua shouldn't have been out there with Sunday Thursday (US time) turn around. Sometimes players need protecting from themselves. Dolphins failed Tua."
https://twitter.com/NFLPA/status/1575683078890352641?s=20&t=a6OQHNExxiEzf6NMT-_Ykwhttps://twitter.com/ChrisNowinski1/status/1575659558613172224?s=20&t=D5nia_plo3xUl1Rgcaf1lQhttps://twitter.com/AlbertBreer/status/1575659732962275328?s=20&t=D5nia_plo3xUl1Rgcaf1lQhttps://twitter.com/minakimes/status/1575658671383552000?s=20&t=D5nia_plo3xUl1Rgcaf1lQhttps://twitter.com/PatrickMahomes/status/1575658365988274176?s=20&t=D5nia_plo3xUl1Rgcaf1lQhttps://twitter.com/Bakari_Sellers/status/1575658893216456706?s=20&t=D5nia_plo3xUl1Rgcaf1lQhttps://twitter.com/DougKyed/status/1575658810957385733?s=20&t=D5nia_plo3xUl1Rgcaf1lQhttps://twitter.com/billbarnwell/status/1575658169941909504?s=20&t=D5nia_plo3xUl1Rgcaf1lQhttps://twitter.com/ColleenWolfe/status/1575657992803913730?s=20&t=D5nia_plo3xUl1Rgcaf1lQhttps://twitter.com/RGIII/status/1575666861710094338?s=20&t=a6OQHNExxiEzf6NMT-_Ykw
For a daily dose of the best of the breaking news and exclusive content from Wide World of Sports, subscribe to our newsletter by clicking here