Eliud Kipchoge smashed his own marathon world record in a spellbinding run on the streets of Berlin on Sunday night (AEST), posting 2:01:09 in another triumphant performance in the German capital.
The 37-year-old Kenyan icon obliterated his time of 2:01:39 set in the 2018 Berlin Marathon and was even on track to break two hours officially at the halfway mark, storming through in 59:51 — a world-record marathon split.
Kipchoge clocked 1:59:40 in Vienna in 2019, but the circumstances of the race meant the time was not official.
READ MORE: Relief for Panthers but star faces monster ban for ugly tackle
READ MORE: 'Absolutely careless' hit sparks NRL sideline scuffle
READ MORE: Coach admits 'mistake' as Swans 'let ourselves down'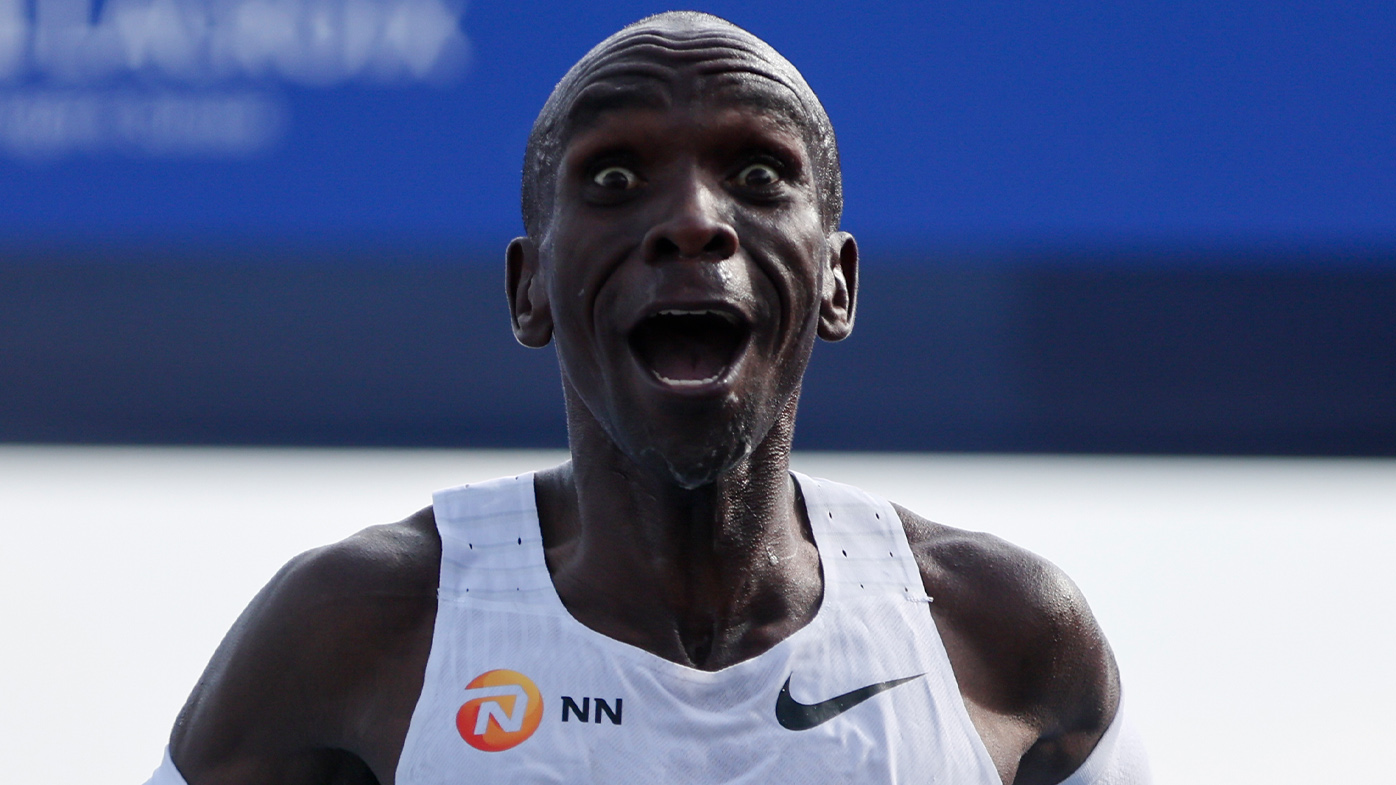 The prospect of Kipchoge becoming the first person in history to officially slip under the two-hour barrier whirred athletics fans into a frenzy as he hovered behind three scorching pacemakers for much of the race.
The last of the pacemakers withdrew at the 25-kilometre mark and Kipchoge broke rival Andamiak Belihu of Ethiopia about 26 kilometres into the race, before charging through the latter stages of the run on his own and creating another slice of history.
Kipchoge waned on occasions late in the run, even slowing to three minutes and 11 seconds for the 40th kilometre — a time much slower than his litany of splits under two minutes and 50 seconds.
But the massive "insurance blanket" he'd worked up meant a world record was never seriously in doubt.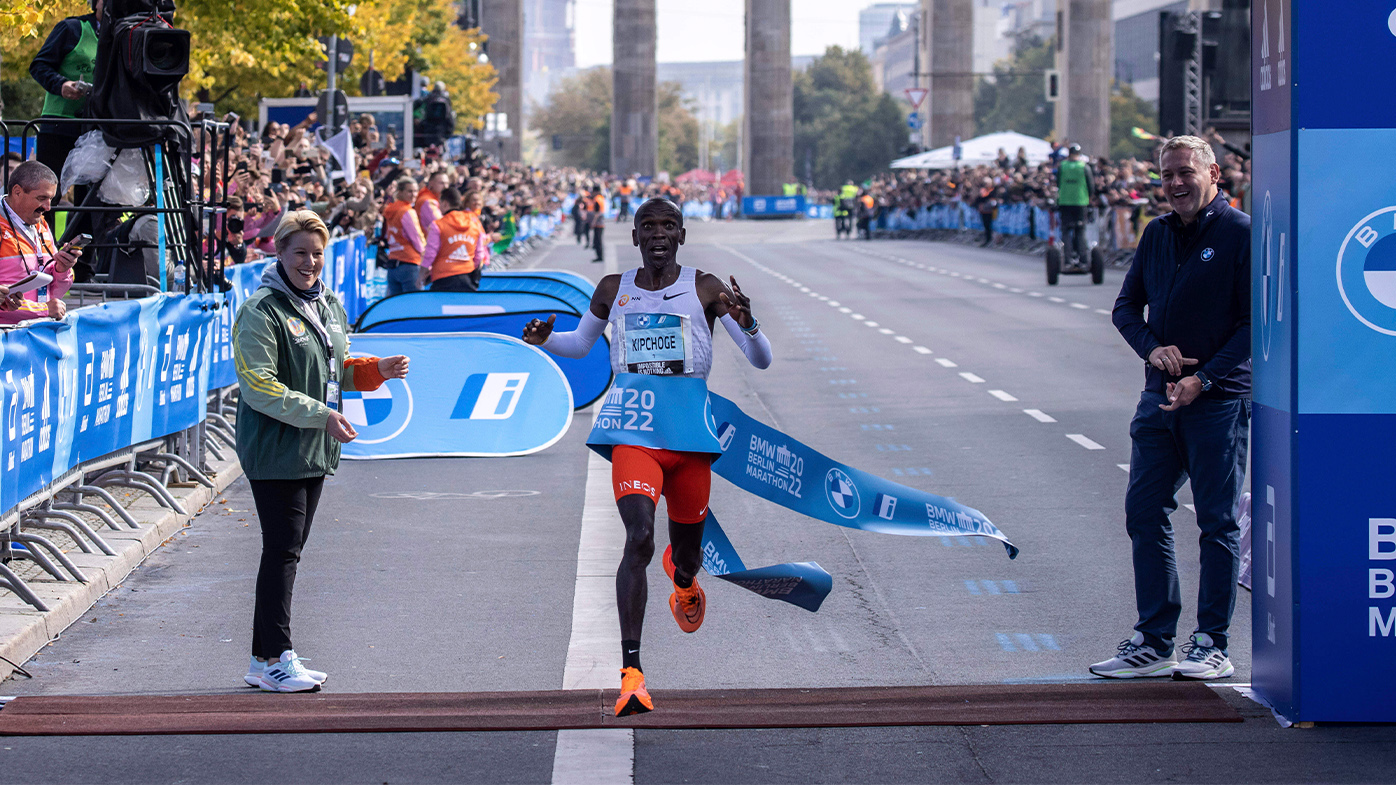 Belihu faded over the back half and finished fourth in 2:06:40 — a personal best of more than three minutes set up by his gutsy call to stick with the pacemakers from the outset.
Kenya's Mark Korir finished second in 2:05:58 and Ethiopia's Tadu Abate rounded out the podium with the time of 2:06:28.
But the day belonged to Kipchoge, undisputedly the greatest marathon runner of all time.
He clinched his fourth Berlin Marathon victory and has now won 15 of the 17 official marathons in which he's competed.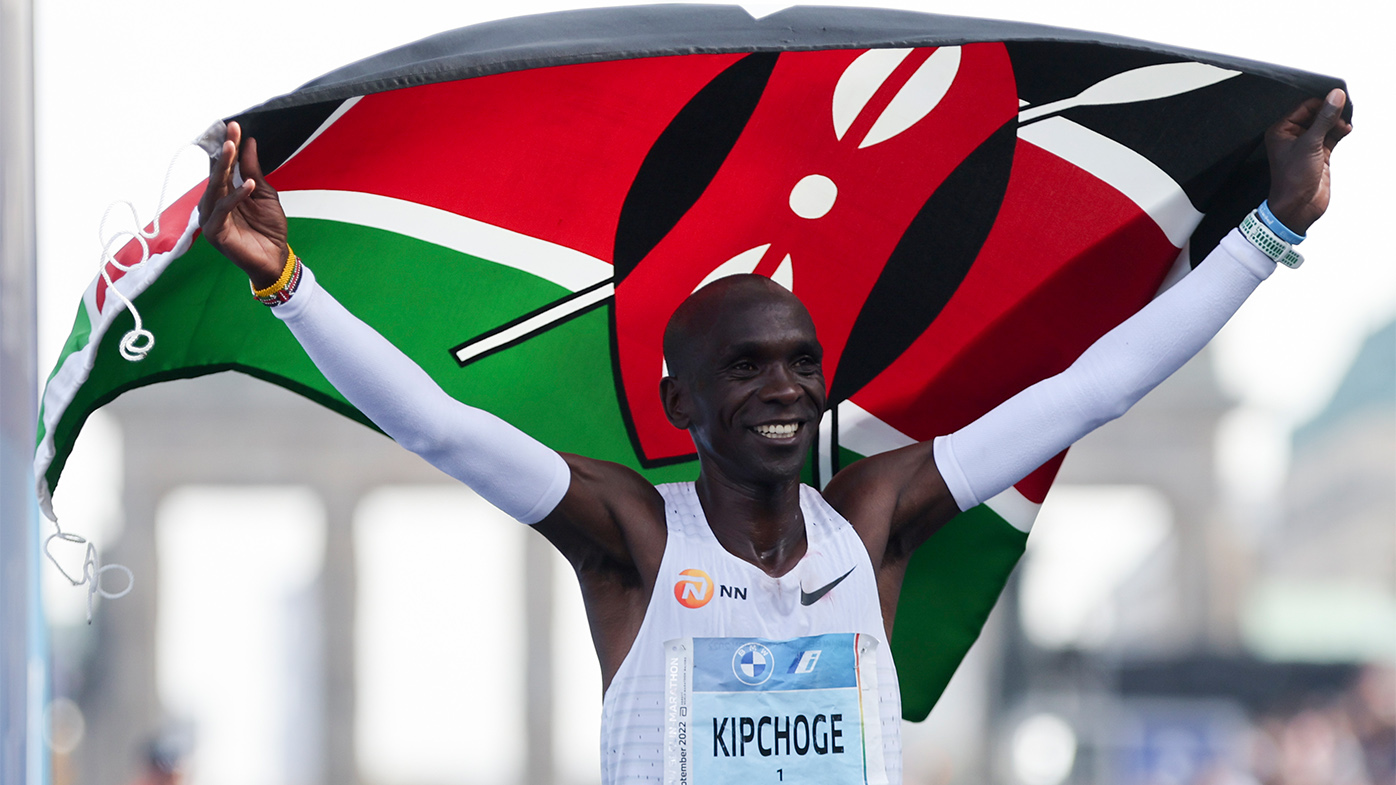 On a mild Berlin morning, a lively atmosphere was whipped up by thousands of eager observers cheering, beating drums and blasting their car horns.
Kipchoge's trademark smile, which he says is a tactic to ease the pain, appeared about 29 kilometres into the run.
About 30 minutes later he was streaming through the famous Brandenburg Gate built in 1791 and hurtling toward the tape, clapping and beating his chest with a booming smile.
For a daily dose of the best of the breaking news and exclusive content from Wide World of Sports, subscribe to our newsletter by clicking here!